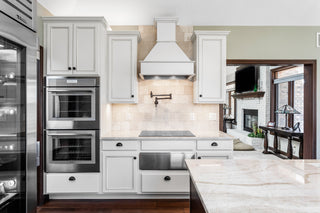 When considering a home remodel, one of the first questions clients ask is HOW MUCH WILL IT COST?
And while cost is a factor, we do not believe it is the most important question when determining if a remodel is best for your family.
The truth is costs will vary from state-to-state, city-to-city and again from contractor-to-contractor in your home town. Labor rates for remodeling vary across the board largely depending on the season you wish to begin work, type, size and scope of the space you want to remodel.
So WHAT IS the most important question when considering a remodel? In our opinion, it's ROI - Return on Investment.
At HER, we understand the remodeling process can be taxing - both fiancially and emotionally - and we encourage our clients to ask themselves: What's it worth to me? After I complete this remodel, will I have everything I want? Will I get my investment back when I'm ready to sell my home?
Below is a chart with a quick guide to ROI on various types of home remodel projects in Indiana.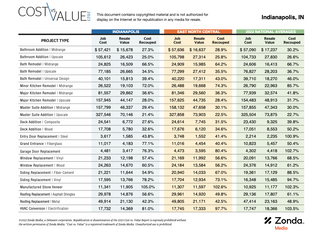 Cost Vs. Value in Indiana
Use this handy chart to identify your anticipated project type and size to get an idea about costs and ROI in Greater Indianapolis. Click the button below to get more detailed information about the data.
Remodeling by the Room
Below are our most requested and popular remodeling services. Click on each image for an idea of costs related to each of the categories below.
Don't see the space you're hoping to remodel? No problem! Give us a call at 317-377-4344 to discuss your anticipated project and relative costs in detail.
Contact HER
Ready to get started on your design-build remodeling project? It's time to call HER! Reach the Design Studio Office at 317-377-4344 or complete the contact box below to get started.