Budgeting for your kitchen Remodel
You're ready to remodel your kitchen. If you're like most people, you're wondering, "How much does a new kitchen cost anyway?" Dozens of variables will influence your bottom line cost – including the particular kitchen cabinets, layout, appliances and countertops you choose – but the average prices below can give you a frame of reference to help you budget for your kitchen remodeling project:
AVERAGE Costs for Kitchen Remodels*
Basic Kitchen
Cost: $7,000-$20,000
$75/SQ. FT.
WHAT YOU GET FOR YOUR MONEY:
Keep existing layout
No "behind-the-wall" work
Laminate or tile countertops
Replace appliances
Keep existing flooring
New central light fixture
Mid-Range Kitchen
Cost: $15,000-$35,000
$150/SQ. FT.
WHAT YOU GET FOR YOUR MONEY:
Modify layout (reconfigure shape, add kitchen island)
Some new drywall with plumbing and electrical upgrades
Solid-surface countertops (Corian®, Wilsonart)
Appliance upgrades (stainless steel finish, add a wine cooler)
Replace floor using vinyl or laminate
Add recessed and undercabinet lights
High-End Kitchen
Cost: $30,000+
$250/SQ. FT.
WHAT YOU GET FOR YOUR MONEY:
Expand the kitchen size, add windows
All new walls, wiring, plumbing and insulation
Stone countertops (e.g., granite, marble, quartz)
Professional-grade appliances (e.g., built-in refrigerator, six-burner range)
Replace floor using tile or hardwood
Add recessed, undercabinet and decorative pendant lighting
WHY THE DIFFERENT PRICE RANGES?
*Keep in mind, these illustrations are based on national averages for a kitchen remodel.
According to a 2021 report by HomeAdvisor®, the range for a kitchen remodel is between $13,356 and $37,715.
Remodeling magazine Cost vs. Value Report lists the national average to remodel a 200-square-foot kitchen with mid-range materials between $28,300 and $80,800 – with the low end being a minor refresh and the upper end being a more major remodel.
Something as simple as where you live can make a big difference in what your kitchen will cost. Remember that $80,800 average for a major kitchen remodel listed in the Cost vs. Value Report? It costs 14% less to complete that project in the North Central region ($75,700) than it does on the Pacific coast ($88,200).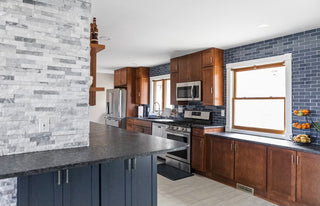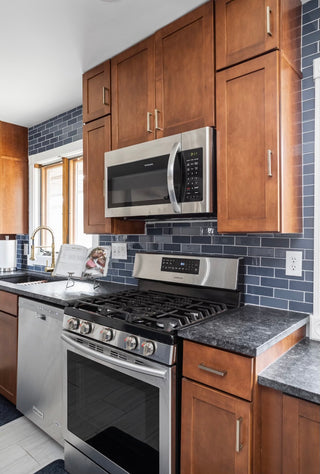 Ways to Save
If your ballpark budget projection or the initial project estimate for your kitchen renovation make it seem like your new dream kitchen will never be more than just a dream, don't worry. There are lots of ways you can save money on a kitchen remodel and keep costs down without sacrificing your vision.
KEEP YOUR CURRENT KITCHEN LAYOUT
Costs can balloon when you add windows, remove walls and relocate plumbing, gas or electric lines. Explore ways to make improvements without significant changes to your existing space.
LOOK FOR AFFORDABLE ALTERNATIVES
Seek out material options that give you the look you want for less:
Instead of a kitchen cabinet door with a solid-wood center panel, look for a comparable style with a veneer center panel to cut cost without dramatically changing your design plan.
You can get the appearance and character of hardwood floors in laminate, engineered hardwood or even tile.
Design choices don't have to be all or nothing. For instance, consider budget-friendly butcher block on the perimeter counters, but splurge for quartz on your feature kitchen island.
CONSIDER UPDATES IN PHASES
Maybe your appliances are in good working order. Make that a future upgrade. Or add the tile backsplash next year. You won't necessarily reduce your overall costs, but you'll spread out your expenses over time.

DO (SOME OF) IT YOURSELF
If you're up to the task, consider doing the demo work yourself. Or tackle the painting. Or tile your own backsplash after the kitchen is done. Saving on labor adds up quickly.

TIME IT RIGHT
Contractors are generally busiest in the summer and the months leading up to the holidays. You may find a better deal on labor if you schedule your kitchen remodel work just after the new year.
SELL YOUR OLD STUFF
If your kitchen cabinets and appliances are still in good working condition, carefully remove them to list for sale online. You may not fetch much, but you'll offset some of your costs.