How to Price Remodeling Your Basement
The cost to remodel your basement includes several factors that include differentiations between labor and materials. Here we have attempted to share with you details and cost comparisons for basement remodels we have completed. These guides are estimates, only. Actual costs will vary with your personal specifications.
Complete Basement Refinishing
The average cost to finish a basement is $32 to $47 per square foot or between $22,000 and $46,000.
An open-plan basement remodel costs on average $2,000 to $5,000 less than with rooms.
Basement renovation costs depend on the layout, if framing and drywall are needed, materials, and construction labor.
Additional Basement Finishing Cost Considerations
Labor
Professional labor makes up 10% to 25% (usually around 20%) of the project's total cost, but general contractors will typically include their fees in the project quote rather than charging hourly.
Finishing a basement is a big job and takes several weeks, with most basement finishing projects taking around 45 days. You'll need to work with several different pros, from general contractors to oversee the project to electricians to handle wiring for your recessed lights and mini-fridges.
Materials
Materials cost about $5.25 to $21 per square foot for a finished basement. Although you can save money by opting for builder-grade materials, you may want to invest in higher-quality options as much as possible. Basements, even when finished, can be vulnerable to temperature fluctuations and high moisture levels. If you want the space to last a long time, invest in better materials wherever you can.
Building Permits
Acquiring the necessary building permits will make up about $1,200 to $2,000 of your total cost to finish a basement. Some municipalities will charge permit fees of 1% to 2% of your basement remodel project. A contractor will usually include this in your service package, but if you're handling the building yourself, be sure to factor it into your budget.

Electrical
You'll undoubtedly need some power for your pinball machine, computer, and other electronics in your newly finished basement. At the very least, you'll need good lighting to make the space more inviting. Together, this usually makes up around $5,305 of your finished basement cost.

Plumbing
Hiring a plumber costs about $45 to $200 per hour. Whether you plan to add a bathroom or kitchen or just need someone to inspect the existing plumbing, this is an important cost to keep in mind if you want to turn your basement into a livable space and avoid any costly water damage down the line.

Framing
On its own, framing your basement will run an average of $1,800, or about $7 to $16 per linear foot. This number doesn't factor in the cost to drywall the basement or add insulation.

Insulation
Your best picks for basement insulation are foam products, as these provide a barrier that stops mold from infiltrating your pad. Spray foam insulation costs around $2,140 to cover a 1,000-square-foot basement (not including labor). Rigid foam board for the same-size space will cost about $700 to $840 for two-inch thick sheets. While foam board costs less, it is only suitable for installation before framing or on flat concrete or block walls.
Drywall
The cost to drywall your basement typically goes for approximately $1,750, or about $2 per square foot. If you're installing it yourself, drywall panels usually cost $12 to $20 a piece.

Ceiling
Building and drywalling the ceiling makes up about $1,610 of your cost to finish the basement. If you like the industrial look of exposed ductwork, you might consider having a pro spray paint it for about $300 to $500, or you can rent a sprayer for around $100 per day.
Alternatively, you can install a drop ceiling to cover the pipes and ductwork for around $2 to $6 per square foot. Tongue and groove wood paneling is another option for about $1 to $3 per square foot. This paneling will give your basement a modern look, plus it's lightweight and easy to install.
Increasing basement headroom is also an option, but this can get pricey and complicated, as it usually requires raising your home's foundation.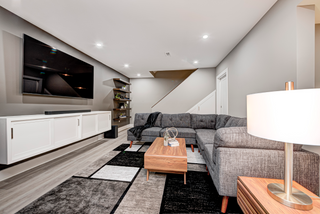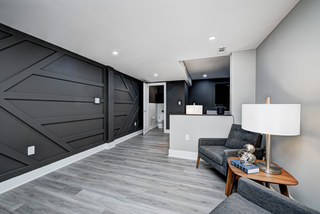 HER Basement Projects
We do basement remodeling from partial to full. Call us today for your FREE virtual basement consultation